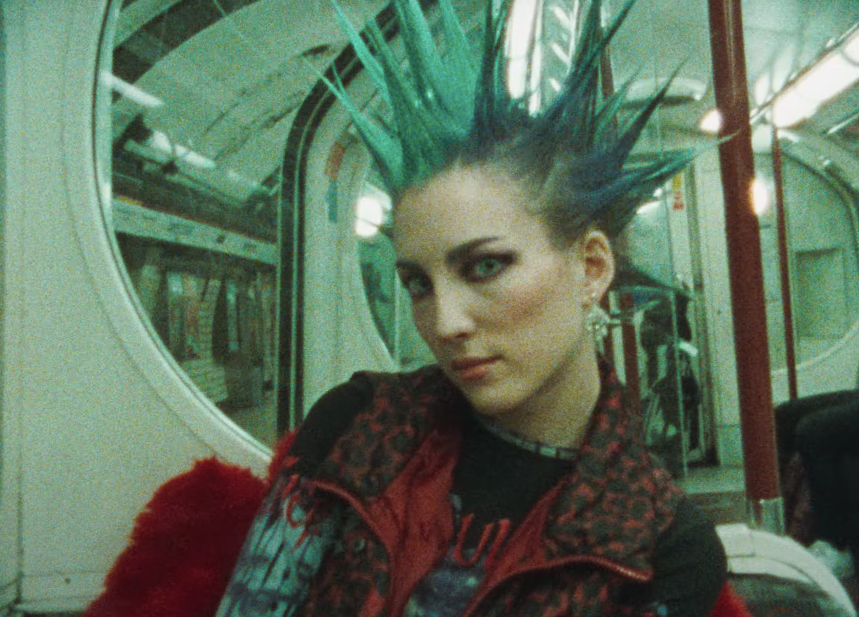 "Being unable to speak your truth" is a "paralyzing feeling," explains Sophia Bel (AKA "Princess of the Dead"), whose new single, "2AM (And I Did It Again)," leans into the drama of an early morning spent writing emotional letters without anyone on the receiving end. "I broke my hand trying to say it with a pen," she sings on the chorus, capturing the angst of late '90s, early '00s "sadboys that stole our hearts shedding their sorrows on stage in bands such as Fall Out Boy and Green Day."
Related | Cobra Starship Reissues 'Hot Mess' With Two Unreleased Tracks
The Montreal-based musician is gearing up to release her debut album, Anxious Avoidant, due out in spring 2022. And today's drop is a taste of her melancholic, self-reflective point-of-view — one that pulls inspiration from her childhood, and all the different skate-punk and emo-wave acts she listened to back then. Naturally, "2AM" sounds nostalgic, but with all the clarity of a present-day narrator in touch with their innermost feelings.
For Bel's music video, Director Lea Taillefer aimed to create something that balanced beauty with humor, all while making the viewer want to dream and travel. "I was deeply inspired by family 8mm videos," she says of the classic treatment, and decided that shooting in London "would add to Sophia's universe." So the two ran wildly around the UK, with Taillefer's camera in-hand, filming Bel like two best friends documenting a whirlwind trip together.
Related | Carlie Hanson Shaved Her Head for This Ferocious Deb Never Collab
The styling reflects Bel's playful approach to fashion, with tons of outfit changes that are as deeply personal as the lyrics she sings on "2AM." One look layers a mint baby doll dress over a striped shirt with matching knit cardigan; in another, Bel throws on a giant furry pink hat and corset with low-rise patchwork jeans. The hair throughout goes from cyberpunk buns to monstrous spikes, all largely pulling influence from Japanese street style and designers who're close friends.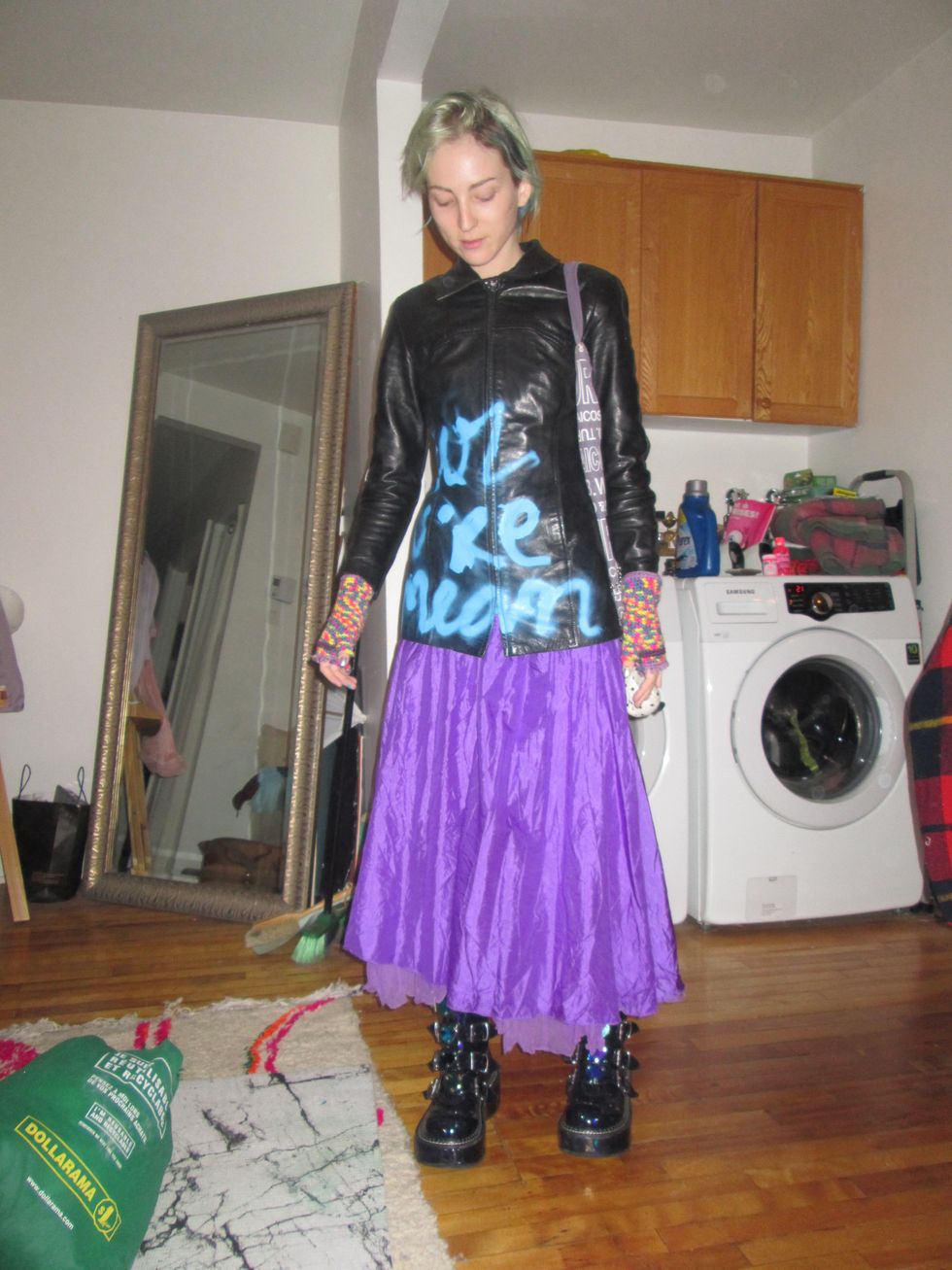 This look is my current obsession when it comes to silhouette. I've been very inspired by Japanese street style; my Pinterest boards are filled with photos from FRUiTS magazine. This winter I am excited to have fun layering leggings and long supple textiles that catch the wind oh so nicely.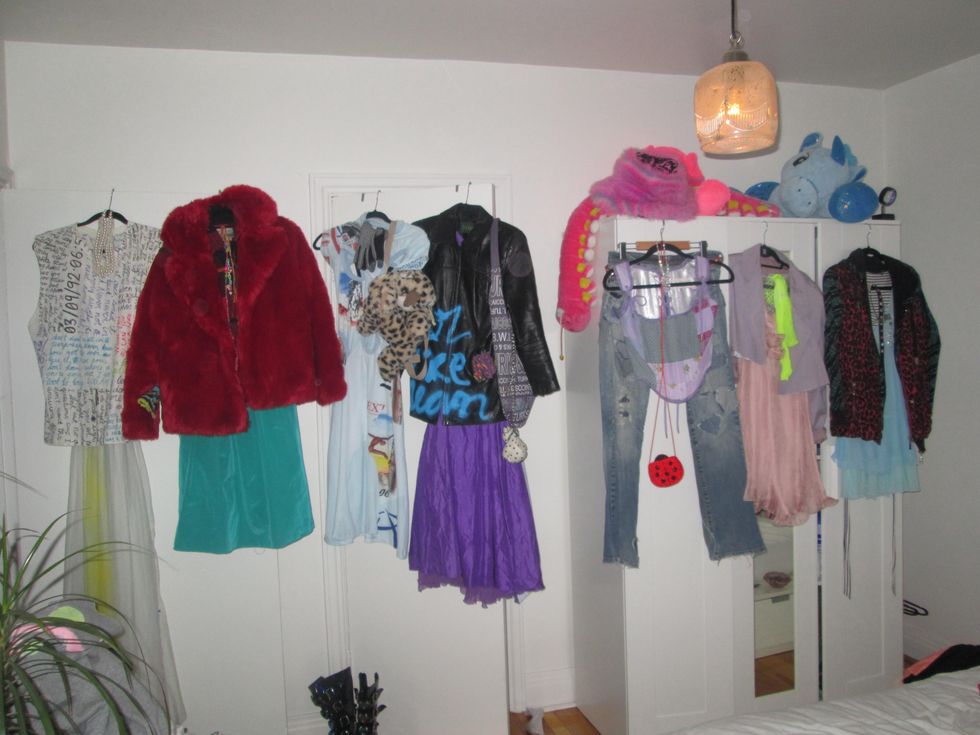 My apartment often morphs into an arts and crafts studio, particularly when preparing for a photo or video project. I feel like this image captures the sparkle and color that this creative outlet brings into my life. What it did not capture is the hurricane of fabrics, threads, beads, and spray paint scattered in every room and on every surface of my home. It can get quite hectic and overwhelming, but I think it's worth it in the end.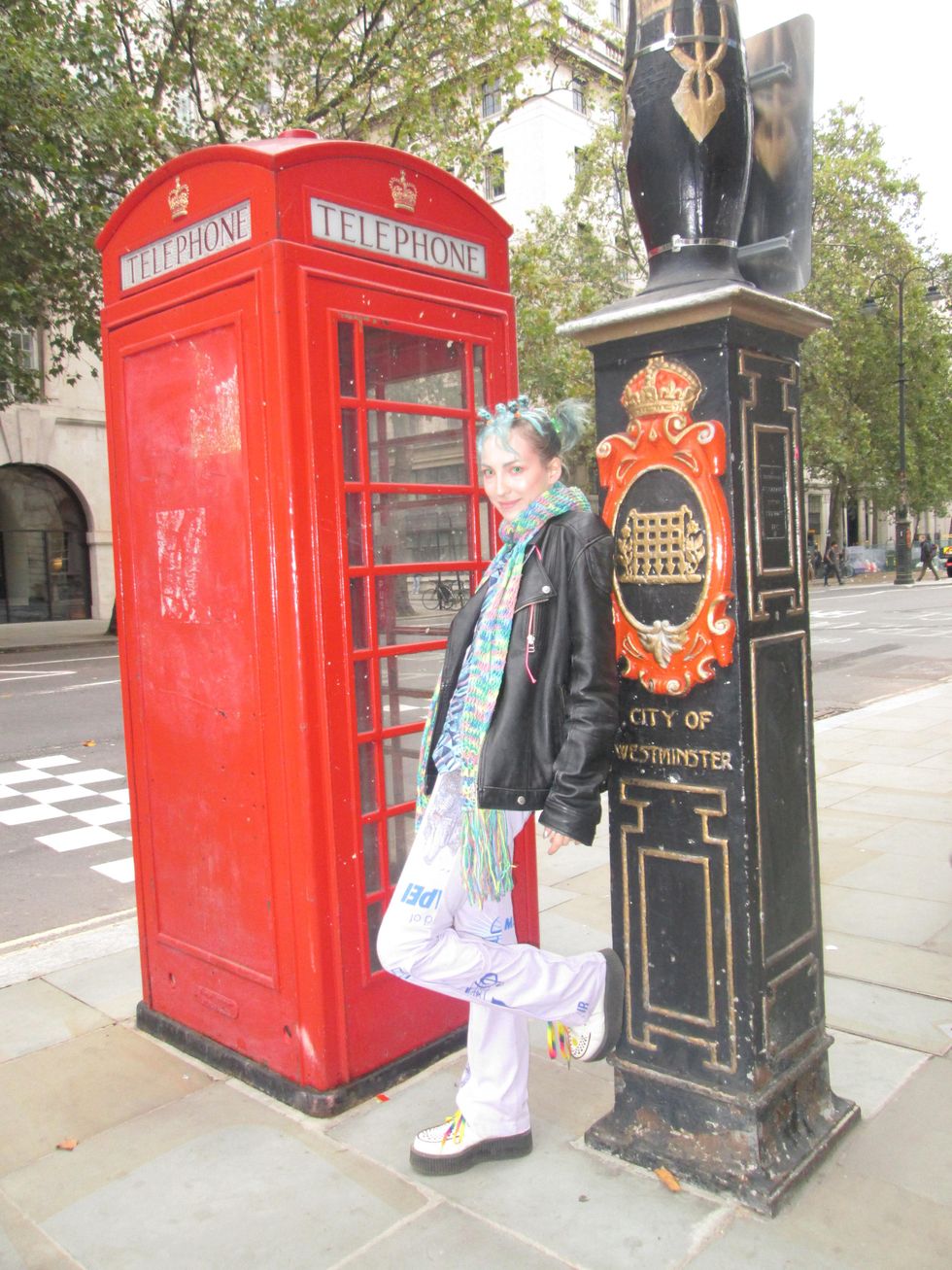 Walking around the streets of London was a true blessing. I feel very grateful to be able to pursue what I love most, while simultaneously visiting such a beautiful city, full of life and culture. I had to take at least one cliché tourist shot for my mom's fridge.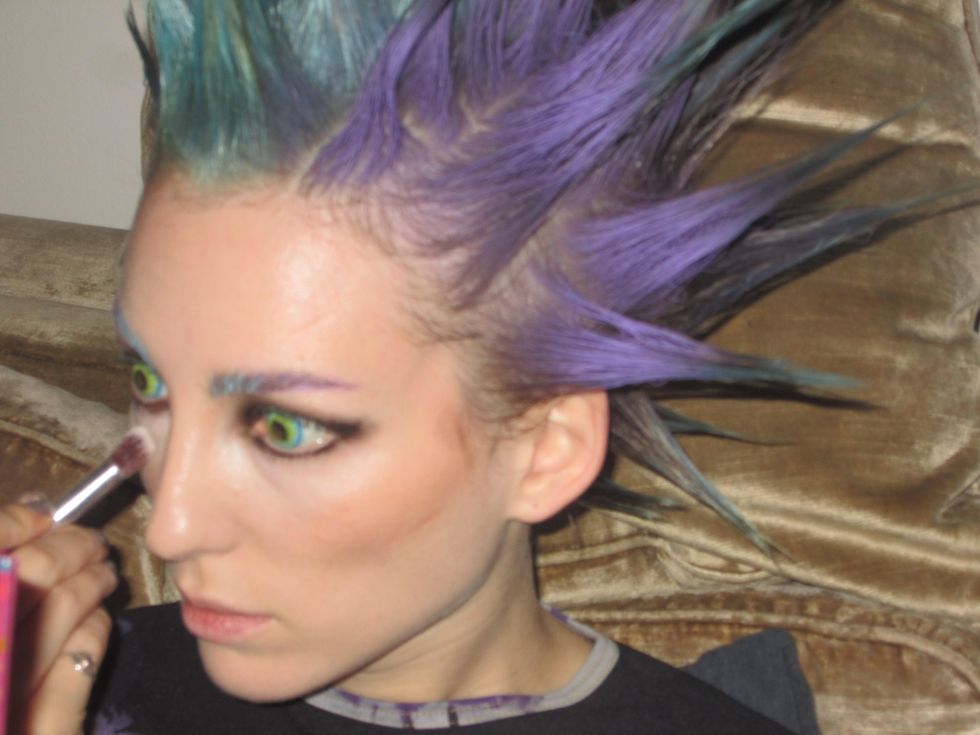 I've always enjoyed the process of a full glam, which is why it was such a treat when Yuho joined us at 6 AM in our cozy little flat in Hackney to spike the shit out of my hair. Meeting artists in other cities and witnessing their creative process is truly a nourishing experience, and I will always cherish these moments.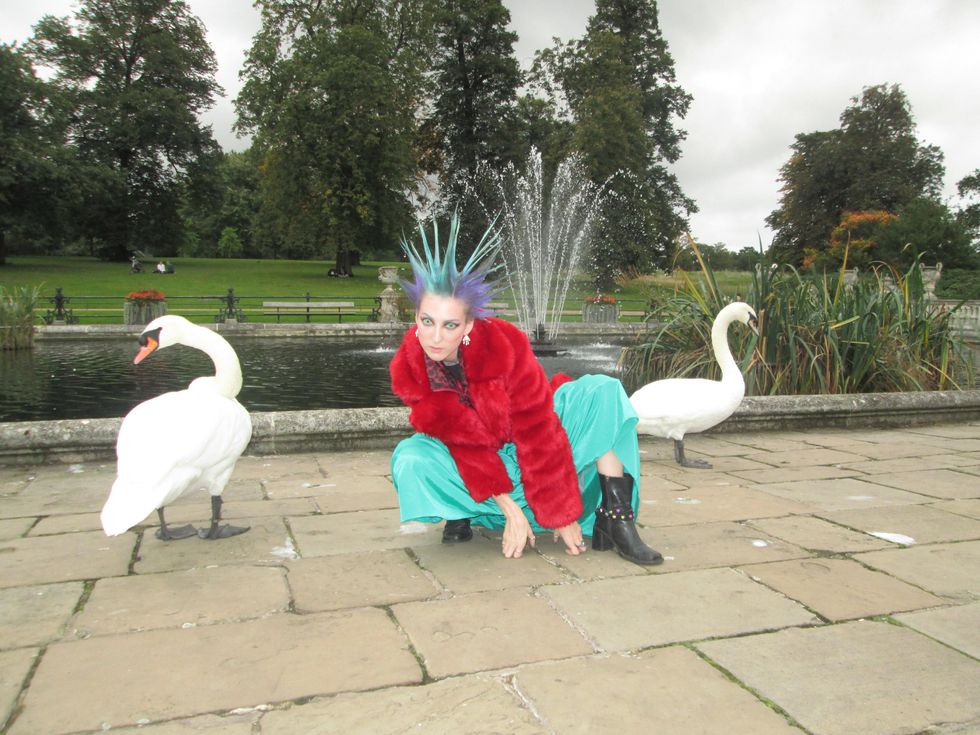 One of the great benefits of working with such a small team and simple technical direction is the spontaneity and flexibility that it offers. Catching magical moments like this is priceless to me and I am so glad that we caught this on Léa's 8mm film to remember forever.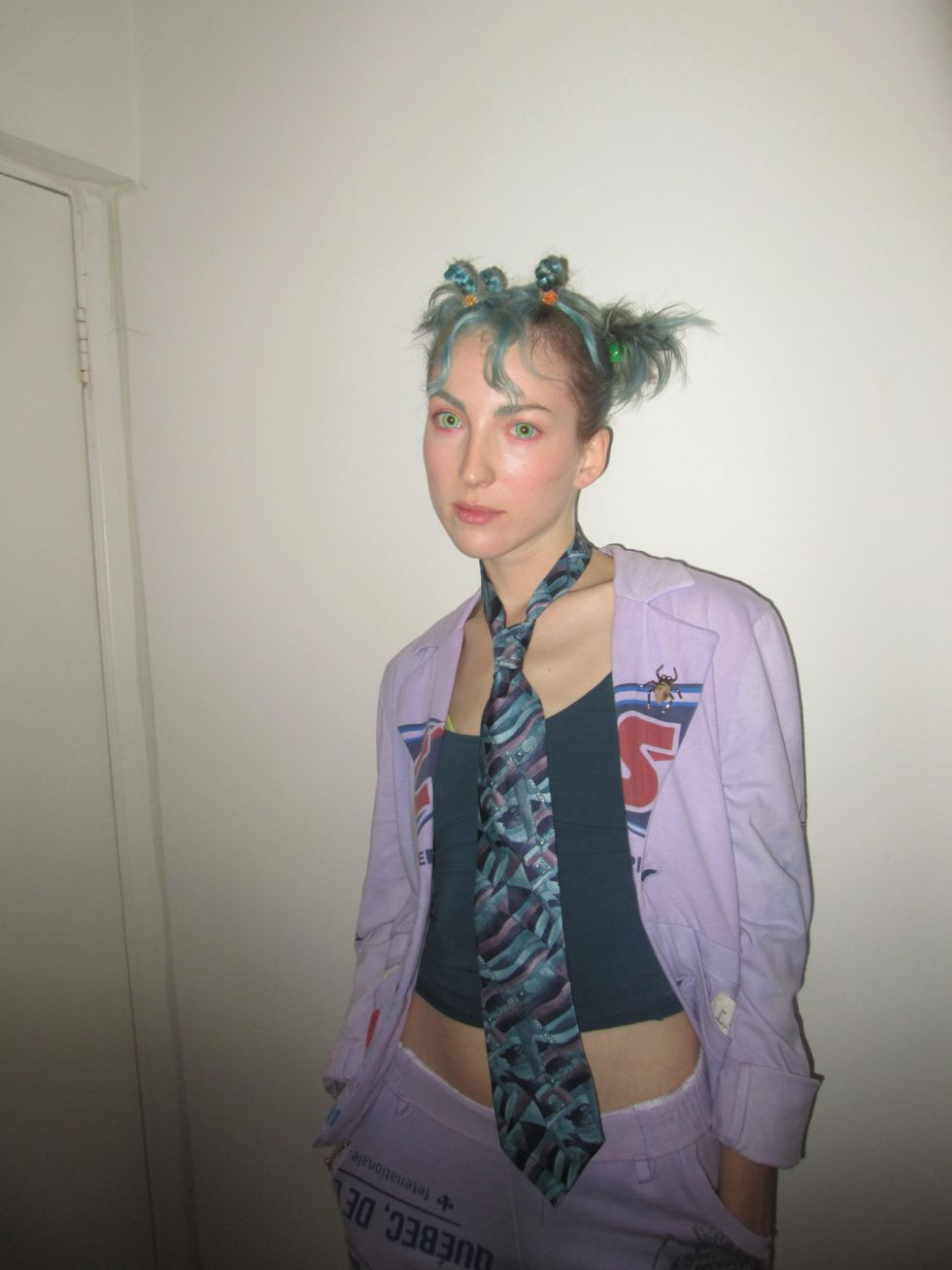 A few of the looks in the video featured pieces from LAFAILLE, a Montreal designer that is very dear to me. I had a lot of fun styling this upcycled lilac suit, originally made from white t-shirts which he then dyes beautiful colors. In the video you can also see a light blue dress, which was made in the same manner.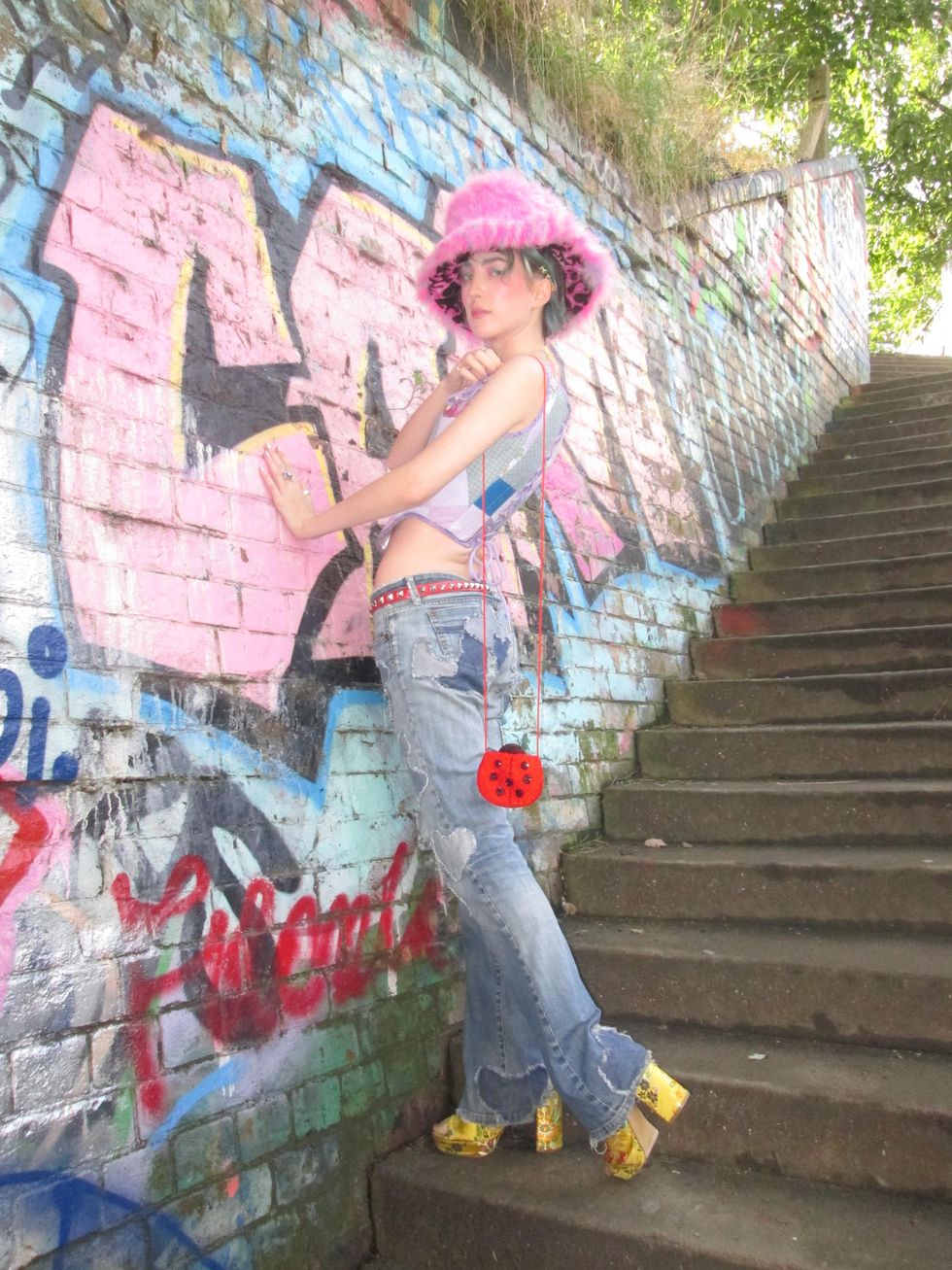 Category is: steampunk rave trip. This look features an up-cycled corset by LAFAILLE, carefully constructed with old quilts, which I personally find quite poetic. I never thought I would willingly admit to referencing the steampunk aesthetic, but this hat and corset combo are giving me just that. Mixing up clashing aesthetics and telling stories with the looks is what I love the most about fashion and street style.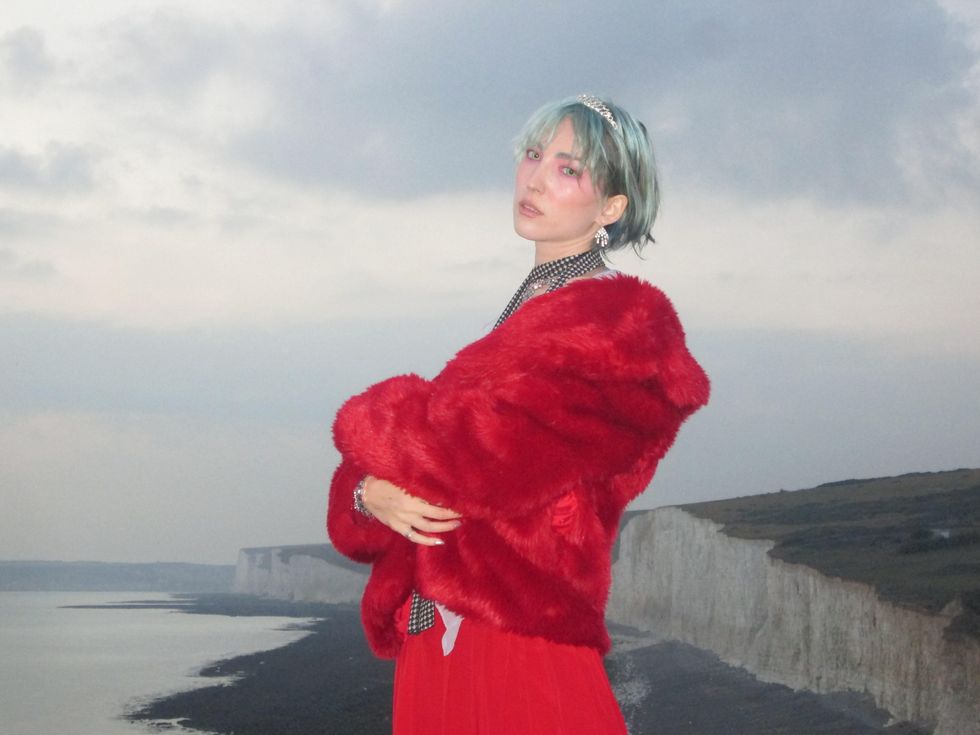 My Downton Abbey moment. This outfit is the work of Léa, who trusted me with her gorgeous red vintage silk Prada skirt, paired with a delicate chiffon blouse and shiny blue camisole. I like how this look plays on the gothic and royal references in this video, while remaining bright and playful.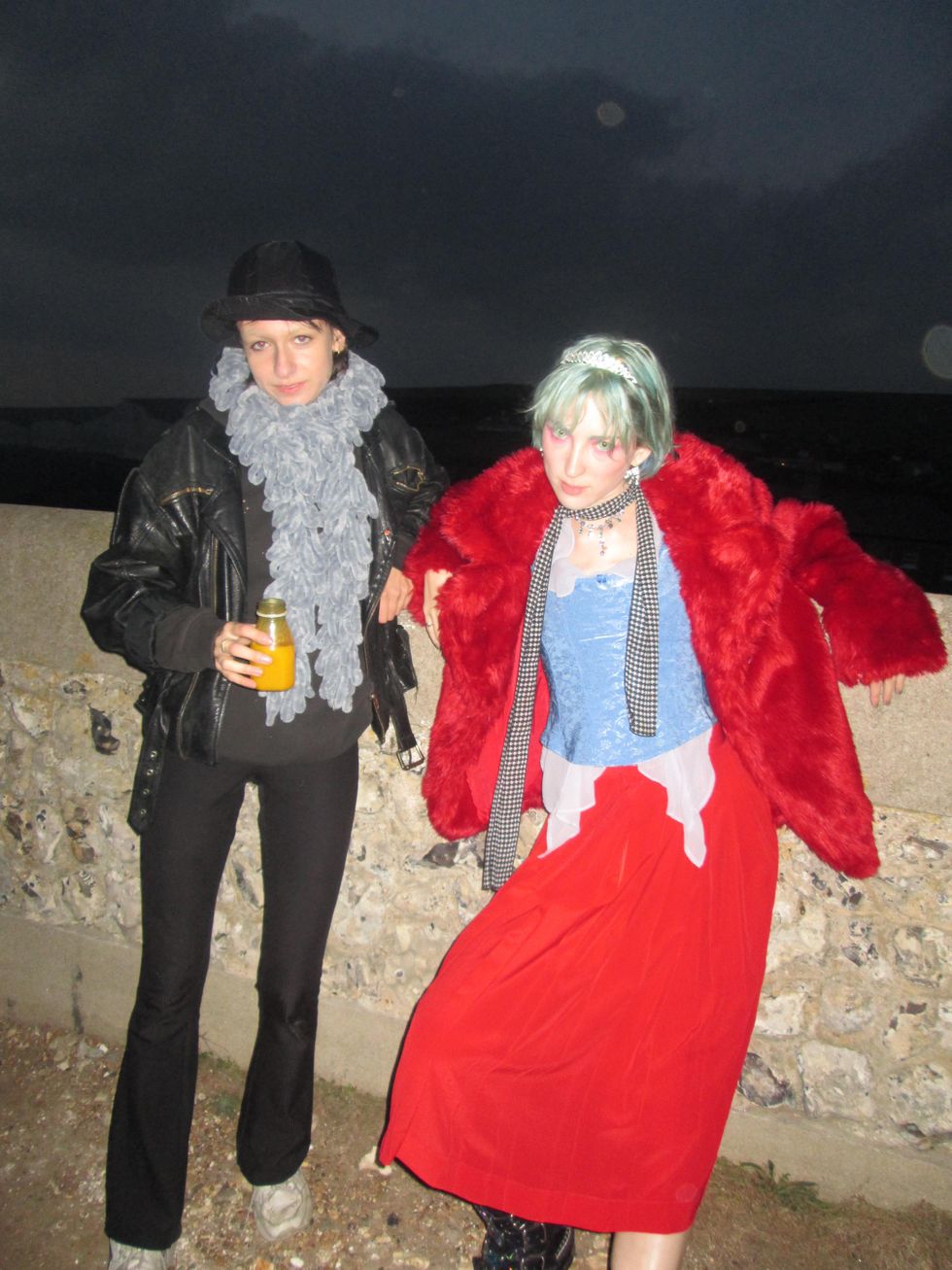 A candid shot of Léa and I after a long day of traveling in trains and busses to a mystical place, called Birling Gap. The view was breathtakingly beautiful and I want to live there. Shortly after taking this photo, we were sort of stranded in a remote parking lot, far from any transit or taxi service. Léa saved the day with her fearless and outgoing personality, and hitched us a ride back to the train station with a lovely couple who were also visiting the area. I feel that I have a lot to learn from Léa and her trust in the universe.
Go behind the scenes of Sophia Bel's video, above, and stream "2AM (And I Did It Again)," below.
Photography: Lea Taillefer
Источник: Тексты Песен от Lyrics.az