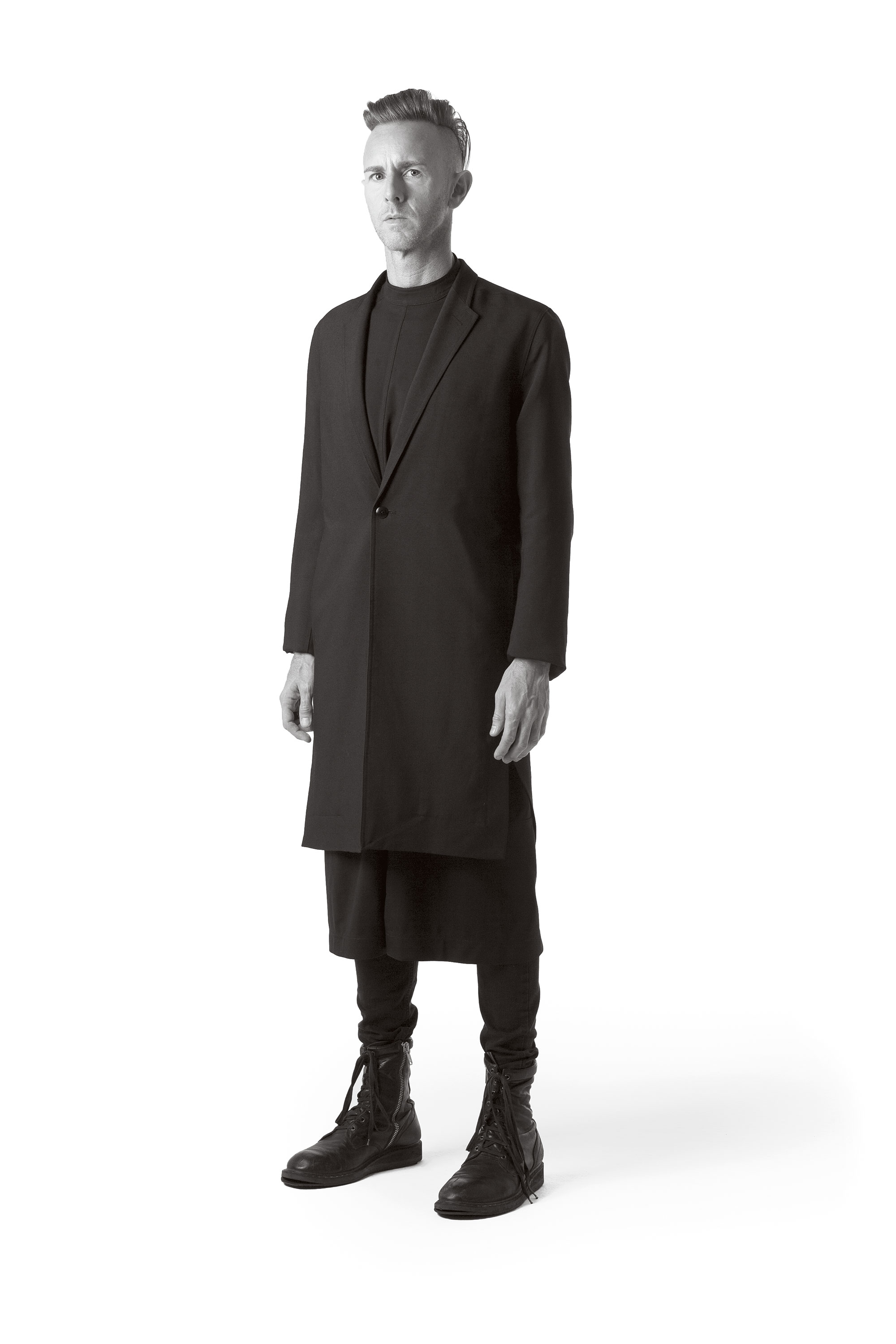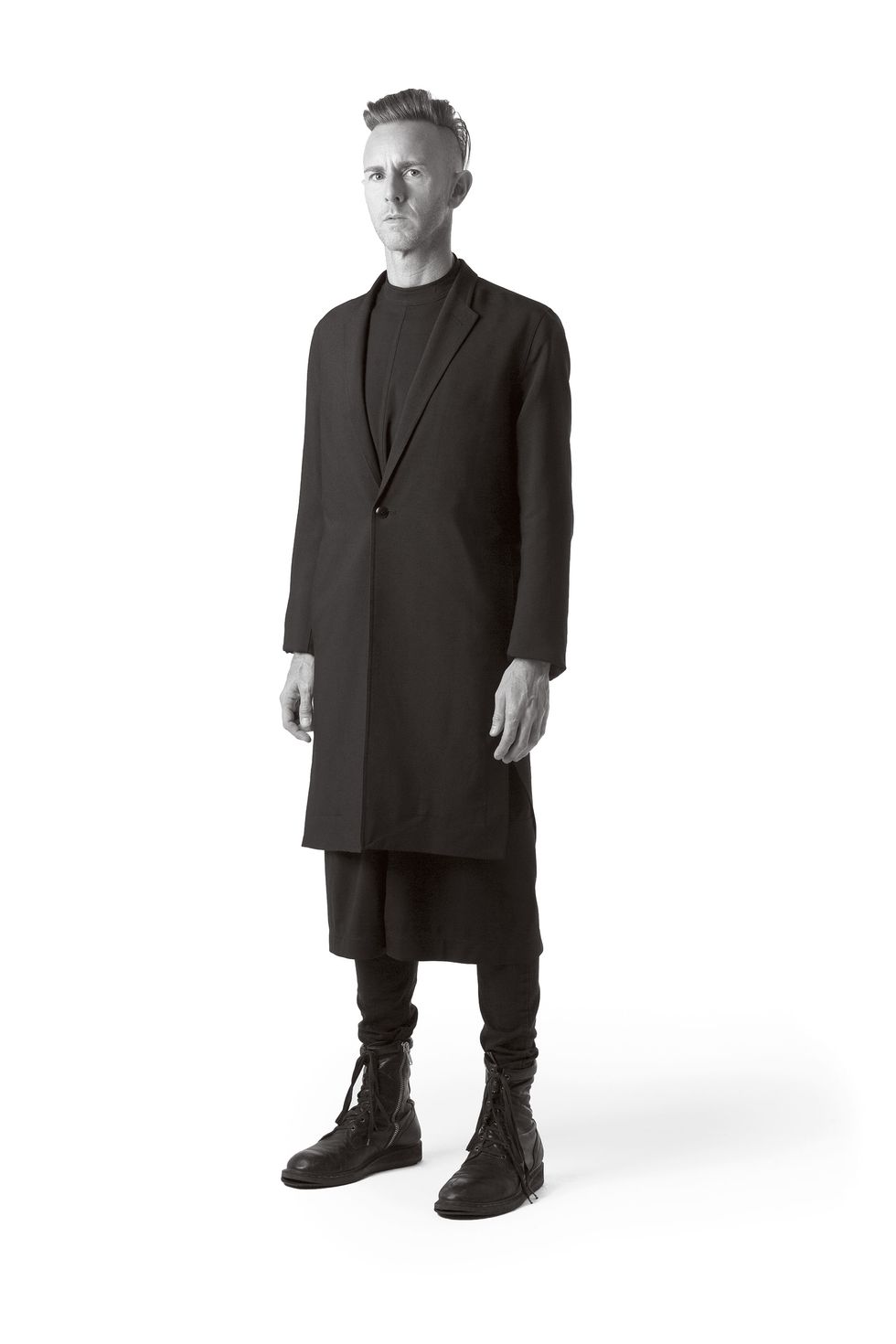 Richie Hawtin wears a shirt, jacket and skirt by Rick Owens and pants by Cheap Monday.
Cramped inside a dark Detroit club in 1990, dozens of kids dance wildly, dripping with sweat and blowing whistles, as 20-year-old Canadian DJ Richie Hawtin preps his vinyl. "Put your hands in the air and make some fucking noise," Hawtin wails, then spinning under the moniker Cybersonik. "I'm Richie Rich," he screams before descending into a pounding techno set — the sound that made him an influential player in Detroit's early '90s music scene.
With more than 25 years of being behind the decks, Hawtin — now 44 — has transformed from a small club scene staple to one of the leading pioneers in electronic music worldwide. He's most famous for his work under the alias Plastikman, and just recently revived this revered project with the June 10 release of his new album, EX. The eight-track effort, which is Hawtin's first Plastikman album since 2003, was recorded live in 2013 for Guggenheim's annual fundraiser and stays true to the project's signature minimal techno sound.
"The music came to me effortlessly as I was very inspired by the opportunity to play in this beautiful architectural space renowned more for art than music," Hawtin said. "The location also allowed me to step far away from the dancefloor, giving me a huge amount of freedom to EXplore any sonic ideas I had. Art, music, architecture, painting, sculpture — these mediums are supposed to live together."
Dior Artistic Director Raf Simons commissioned Plastikman's anticipated return at the Guggenheim, and claims to not go a single day without listening to Hawtin's spacey sounds. The entire sonic spectacle took place around a LED obelisk, constructed specially for the evening in Manhattan.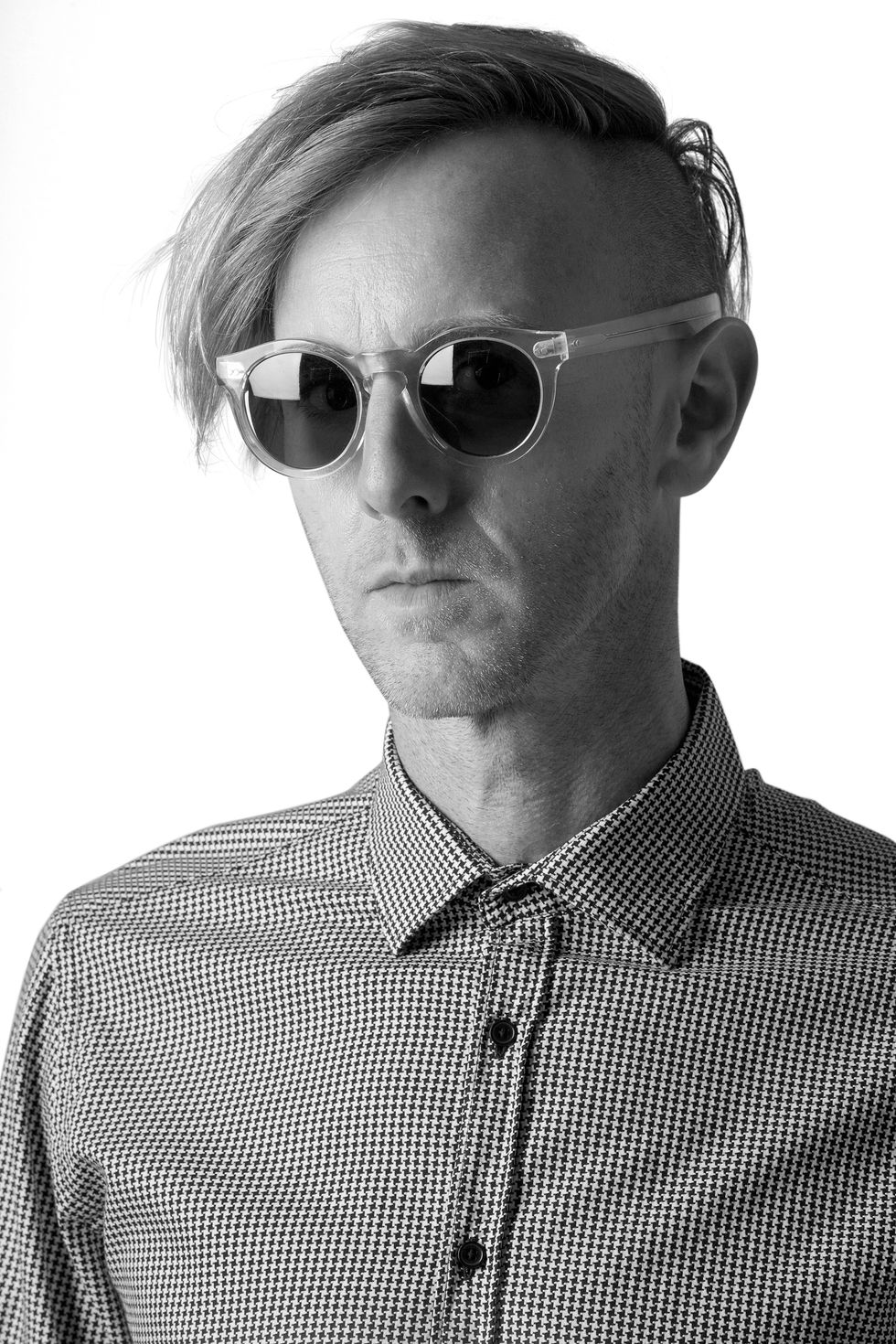 Richie Hawtin wears a shirt by Zara Man and sunglasses by Bottega Veneta.
"I knew that Raf was a long time Plastikman fan, so by accepting his offer to perform at the Dior event at the Guggenheim, I knew I'd set myself up for a huge challenge," Hawtin said. "I locked myself away in a series of intense studio sessions and quickly recorded enough new material for the performance and realized I might also have enough for a complete new album."
Hawtin, who was born in England and grew up in Windsor, Ontario, became fascinated with technology at an early age, closely watching his father's daily work as a robotics technician. He recalls sitting for hours in front of hi-fi speakers with his father, listening to electronic music such as the late '60s German group Tangerine Dream. On the weekends, he'd cross the Canadian border into Detroit, which exposed Hawtin to a world unlike the small-town confines of where he grew up. Equally ridden with crime as it was brimming with a range of fresh musical influences, Detroit offered an exciting scene for young Hawtin to foster his talents and explore his subversive ideas.
Taking notes from Detroit DJs Jeff Mills and Derrick May, Hawtin began to develop his own electronic sound and eventually became a regular DJ at The Shelter, now famous for being one of the first stages Eminem performed. Hawtin was later introduced through a mutual friend to fellow Canadian DJ John Acquaviva, and the two began experimenting with different sounds in Acquaviva's Ontario home studio. Their collaborative efforts weren't receiving attention from any Detroit labels, so the duo created their own label called Plus 8 and decided to set their sights on achieving European success.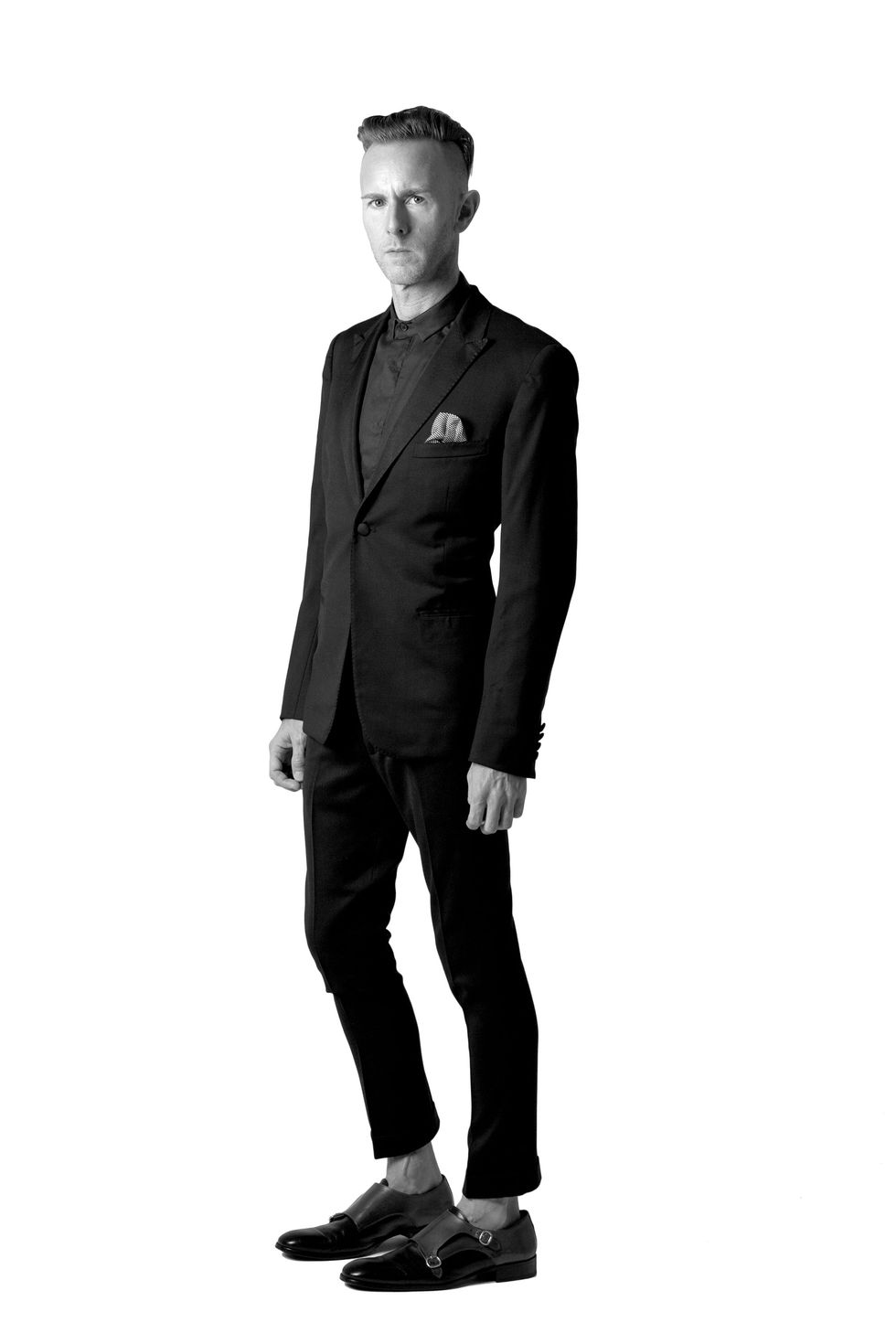 Richie Hawtin wears a shirt by Unconditional London at Curve Miami, jacket and pants by Zara Man and shoes by Alexander McQueen.
Following a brief European tour with Acquaviva, Hawtin continued to explore the vast possibilities electronic music offered when he returned home. The moniker Plastikman emerged soon after when the police shut down an event Hawtin was hosting; partygoers relocated to another venue and Hawtin recalls sinking into the floor on an acid trip, watching his friends fluidly dance in ways he didn't think the human body allowed. Stemming from this, Hawtin became fascinated with the idea of plasticity and his now-famous stage name slowly stuck.
Plastikman's sparse, bare-bones sound garnered a cult-like following with die-hard enthusiasts tattooing Hawtin's logo on their bodies and putting bumper stickers on their cars. However, at the height of his success and the peak of Detroit's party scene, Hawtin's career halted when he became forbidden from entering the U.S. for a few years following an altercation on the border.
Alienated, Hawtin began releasing monthly 12-inch singles for a series he called "Concept 1," which collectively showcased his gradual return to more empty, ambient electronic sounds. Like Mark Rothko's approach to painting, Hawtin sought to reduce his music to the very core — a mission that's translated onto the vacant and at-times eerie sounds of EX. Rather than asking what else he can add to a track, Hawtin has always questioned what more he can remove.
Between his early days of spinning for audiences in grimy Detroit clubs and now offering refined spectacles for New York art and fashion aficionados, Hawtin's passion for music has always been rooted in one ideal: Less is more.
Styled by Lara Diamante Coppola Estefan / grooming by Karen Panoch with artists at Wilhelmina for Smashbox / Shot at Trendy Studios in Miami

MORE OF THE MOST POWERFUL DJs IN THE MUSIC BUSINESS
Источник: Тексты Песен от Lyrics.az