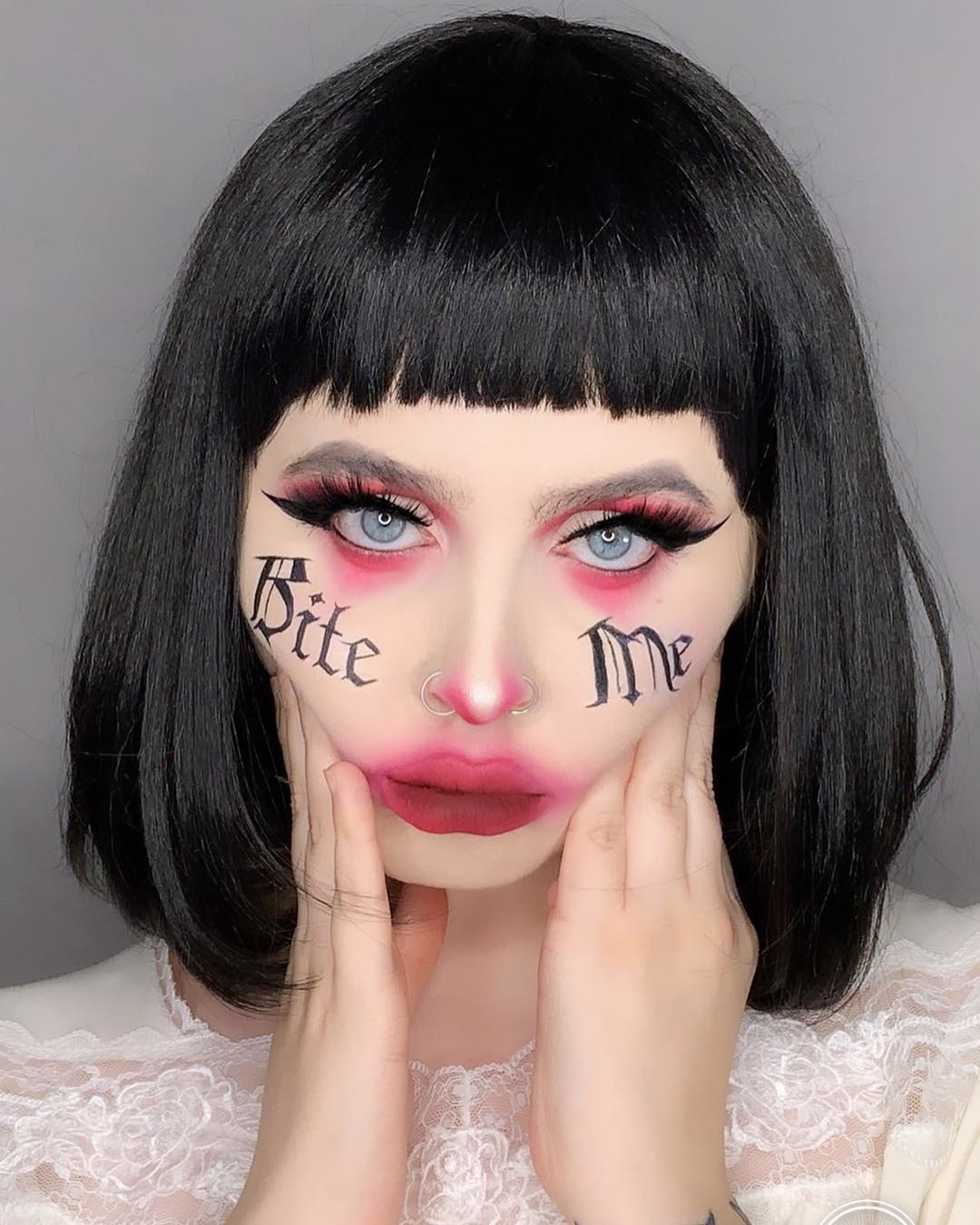 "'Have you heard the the song 'Without U' by Spooky Black? That's my aesthetic," the young makeup artist who goes by the name Blondetaki on Instagram says. "I'm just a mixture of soft angel and goth butterfly. Some days I want to portray myself as the softest of soft, and others I want to wear the thickest black liner and pour blood over my face."
None
The Seattle-based Instagrammer (real name: Ali) has garnered a substantial following for her outsider approach towards beauty. Straddling between extreme goth and soft romantic, she cites her "unpredictable emotions" as a primary point of inspiration for her looks. "A lot of my art is driven by my highly sensitive and unstable emotional side. I love when people can tell what I was feeling with each look," she says. "Art is subjective, so of course each person will feel something slightly different. As long as I can portray what I was feeling in that exact moment I'm happy."
None
Related | This Goth Uses Dead Bugs to Create Extreme Beauty Looks
None
Using Instagram as both an outlet for creative expression and a platform to talk about mental health, Ali's ultimate aim is to create art that is "unreal," challenging what she considers a limiting discourse around makeup. "Makeup isn't just for day-to-day wear. So many artists are pushing boundaries and creating literal masterpieces. The industry is changing and I'm hoping I can be apart of that change, even in a small way."
None
The young artist talks to PAPER what about her creative process, mental health, and the changes she'd like to see within the industry.
Ali on Instagram: "You feel that? 🧚🏼‍♂️ ___________________________________________ FACE: @milkmakeup #hydrogrip primer @milkmakeup blur liquid foundation…"
None
What inspires your work on Instagram?
With each look I do, I feel like I'm finding who I am a little more. I don't know if that sounds silly, but each time I create something I genuinely love, I realize that I took something from my subconscious mind and turned it into something that you can physically see. Makeup is the one thing in life that makes me feel in control. When I'm doing makeup I forget about everything and I'm in the present moment — something I literally cannot do otherwise. I'm the happiest when I'm expressing myself through makeup. Instagram is a great platform for me to share my work with others, but it's definitely just the start for me. I have bigger plans for what I want to create and how I want to share my art with the world. That being said, as of now, I use Instagram to share almost everything with my followers. I have a great support system of actual angels online and I try to be transparent about my mental health. I post pictures of my animals far too often, and try to throw in random things I like on my story like anime or anything squishy. In the end, I always want to be genuine.
Ali on Instagram: "the poisons gone – my soul is pure 🖤 ______________________________________________ styling inspired by @gravemoth_ products used:…"
None
What's the inspiration behind all your looks?
Each look I do is inspired by something completely different, whether it be from another artist, a cute color, or my own unpredictable emotions. Lately I've been pulling a lot of ideas from digital art, especially from artists like Josefin Johnson. I love seeing the different colors, shapes, and textures they create in their own virtual dream world. I aspire to be on that level of art that is almost "unreal" to others.
Ali on Instagram: "The new @limecrimemakeup #softwearblush makes me feel sooOoooO soft n dreamy (๑>◡
Источник: Тексты Песен от Lyrics.az
Blondetaki Is the Spooky Black of Beauty lyrics provided by https://lyrics.az or https://azlyrics.az